Thank you, Ohio readers!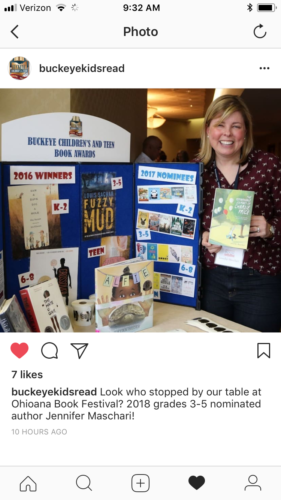 I am so excited to share that The Remarkable Journey of Charlie Price has been nominated for the Buckeye Children's Book Award for 2018 in the 3rd – 5th grade category. What's especially cool about this award is that it's completely kid chosen! Young readers across the state of Ohio are the ones who nominate the books AND vote on them. Being nominated for this award is an incredible honor. I am so glad kids are finding and loving Charlie Price's story. THANK YOU, young readers! For the full list of nominees in all categories, click this link above.
Additionally, my newest book, Things That Surprise You, was just announced as Choose to Read Ohio (CTRO) selection for the 2019-2020 Books for Middle Grades list. Hooray! CTRO celebrates Ohio authors and their books. For every book on the CTRO list, an awesome tool-kit is made with links to resources, discussion questions and extensions. These tool-kits are awesome for classrooms or book group use. For more information about the selection process for CTRO, check out their website! I'm thrilled to be on the list with books like Zoe in Wonderland by Brenda Woods, Saving Wonder by Mary Knight, Under Their Skin by Margaret Peterson Haddix and Dog Man by Dav Pilkey.
To celebrate National Library Week, the kickoff of the week of the Ohioana Book Festival and to announce the new CTRO lists, there was a special reception this past Monday morning at the State Library of Ohio. I was so honored to receive a special commendation from State Representative Laura Lanese and the Ohio House of Representatives. I am so proud to be an Ohio author.