School Visits & Events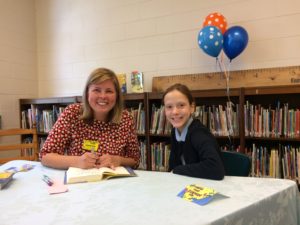 I'd love to come to your school or library!
As an author and classroom teacher, I LOVE working with young readers and writers. I have created some wonderful, interactive presentations and workshops that are perfect for students in grades three – eight.
Topics include a behind-the-scenes look at creating a book, revision, character creation, a cross-curricular look at the stars and constellation stories, and more!
Please contact me for rates and availability.
Some people are just meant to work with children, and Jen is certainly one of those. Our students thoroughly enjoyed her two-day author visit. As a former teacher, she jumped right in and started to help our students to unleash their inner authors. Her workshop offerings (Mystery Story Sacks, Star Stories, Radical Revision, and Create a Character) combined with Lunch with the Author were not only huge hits with our students and teachers, but also standards based, age appropriate, and appropriately challenging. We have had many author visits, but our author days with Jen Maschari were by far the best ever!

Cindy Lombardo, Assistant Principal, Saint Brigid of Kildare School (Dublin, Ohio)
Ms. Maschari brought energy into her presentations with a unique style. The students were encouraged to ask questions during the presentations and throughout the day when not in formal sessions. They were given first-hand knowledge of the work it takes to be a good writer, to welcome criticism as a means of becoming a better writer, and to never give up on achieving their own writing goals. She made each student she met feel "remarkable!"

Teresa Medaugh, St. Rose School (New Lexington, Ohio)
I can't thank you enough for your wonderful author visit today! The kids loved meeting you and were raving about it after you left. In fact, they were so inspired, that about 75% of my class is busy writing right now. What a wonderful sight to see! Thank you again for all the time you took to engage with individual students. You really inspired them, and you have 100 new fans! 

Allison Lodico, 5th grade teacher, Glacier Ridge Elementary
Virtual Visits
I offer FREE 20-minute Skype visits to classrooms, after school clubs, Girl Scout and Boy Scout troops, and book groups.

Events
March 8, 2019
School Visit at Leona Middle
Shadyside, Ohio
March 22, 2019
State Library of Ohio Reception
May 24, 2019
School Visit at St. Mary's School
Columbus, Ohio
June 5, 2019
Featured Speaker at GFWC Great Friends Club
Cincinnati, Ohio
June 22, 2019
Joseph Beth Bookstore – MG Panel 2:00 PM
Cincinnati, Ohio
Where I've Been
I've met with AWESOME readers & writers at the following schools: 
Glacier Ridge Elementary, Dublin, Ohio
Liberty Elementary, Liberty, Indiana
Rosa Parks Elementary, Toledo, Ohio
St. Brigid of Kildare School, Dublin, Ohio
Immaculate Conception, Clintonville, Ohio
East Elementary, Mount Vernon, Ohio
Dan Emmett Elementary, Mount Vernon, Ohio
Wilson Elementary, Anderson Township, Ohio
Leona Middle School, Shadyside, Ohio
St. Michael School, Worthington, Ohio
Twin Oak Elementary, Mount Vernon, Ohio
St. Rose of Lima School, New Lexington, Ohio
St. Mary Catholic School, Delaware, Ohio
St. Mary Catholic School, Columbus, Ohio
St. Therese School, Southgate, Kentucky
Brookville Local Schools, Brookville, Ohio
Will your students be next?!