September Round-up!
It's been about two and a half weeks since my newest middle grade, THINGS THAT SURPRISE YOU, launched. I've had a few events (with more on the schedule!) and it's been so fun getting to meet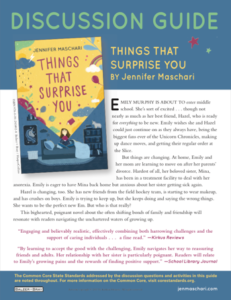 readers. I worked with Barbara and Sarah at the fantastic Blue Slip Media to create puzzle postcards and a discussion guide to go along with the book. I love that the discussion guide has thought-provoking questions and activities. It's perfect for classrooms, libraries and book clubs.
In other news, we're hosting a fantastic giveaway! You can win a hardcover of the book, stickers, a pack of puzzle postcards and a super fun craft kit! Enter HERE by September 14, 2017 to win!
I've been all over the web giving interviews and writing guest posts. Additionally, there have been many kind teachers, librarians and bloggers who have read and reviewed THINGS THAT SURPRISE YOU. I'm so grateful to them! I wanted to link to all of these features in one easy to access place so this post is it. I hope it will be helpful to anyone looking for supplemental material OR wondering if they should read my book!
Reader Reviews
A teacher-focused review on Unleashing Readers – includes some great discussion questions and flagged passages!
"Really shows the truth of how that transition is a turning point in kids' lives." (Includes a book giveaway, too! Deadline: September 13, 2017)
Review on the Geo Librarian – "I have no doubt that young readers will find much to relate to . . . .  The underlying themes are presented well with relationships being at the heart of it all.  Recommended."
I'm such a huge proponent of kids and parents reading and talking about books together. I love the idea behind Mother Daughter Book Club. It would be such a thrill to have clubs like this read THINGS THAT SURPRISE YOU. Find their review HERE:"I highly recommend it for mother-daughter book clubs."
I love following The Loud Library Lady (aka Kate Olson) on Instagram. She reads a lot (and widely!) and her reviews are so thoughtfully done. I love her review of my book: "I can't recommend this book enough – it is a required purchase for middle school libraries and classrooms." She took the cutest picture of my book on Instagram, too! 
Rosemary at Mom Read It is a children's and YA librarian. I love her thoughts about the relationship dynamics of Emily's family and that she feels this would be a good book for discussion groups. Check out her review of my book and others here:"A compulsively readable novel about growing up and moving on; negotiating change; making new friends, and most importantly, discovering oneself."
Jen Vincent at Teach Mentor Texts says, "I've been excited to tell students all about Things That Surprise You because it is such a real book about having friends, keeping friends, and making friends." I love that her review includes snatches of text to share and a writing prompt for the classroom. Read more of her review here.
Jessica at Cracking the Cover shares that "Any book that makes you think…is good, and Things That Surprise You is excellent." I enjoyed reading her perspective on middle school and her thinking on transitions.
Greg Pattridge at Always in the Middle outline five things to like about THINGS THAT SURPRISE YOU, including Hector, one of my favorite characters in the book! He says that the book is "a welcome addition to any library."
Giveaways
Enter to win one of five hardcover copies of THINGS THAT SURPRISE YOU from TeachingBooks.net (Deadline: September 15, 2017 – US only)
It's going to be hard to part with this super cute unicorn craft kit! Win a hardcover of the novel, stickers, craft kit and postcard puzzles HERE. (Deadline: September 14, 2017 – US only)
Check out my author chat on YA and Kids Books Central in which I reveal my favorite character, what I love most about the cover, and an organization that's close to my heart. Then, enter a giveaway for a hardcover of the novel through the Rafflecopter link on the page! (Deadline: September 23, 2017 – US only)
Interviews and Guest Posts 
In this personal essay on Medium, I share a little about the real life story behind THINGS THAT SURPRISE YOU and
how books can help us feel less alone.
I LOVE learning about other people's reading and writing lives so it was especially fun to get to share about mine on The Children's Book Review. I especially enjoyed sharing my favorite independent bookstores and talking about literary characters I'd love to take a road trip with.
I'm a huge fan of librarian Laura Given's 5 on her blog. Authors answer 5 questions or complete her sentences! Take a look at what I had to say about memorable teachers, books I've read and loved lately, and what I hope for readers of THINGS THAT SURPRISE YOU.
Middle school was such a memorable time for me – for both good and hard reasons. On Prose and Kahn, I write about finding a friend in middle grade books and make some book suggestions for Emily Murphy, the main character of my newest novel.
This is from the brilliant illustrator of the cover of THINGS THAT SURPRISE YOU, Kathrin Honesta. In this post, she explores some of the other concepts she came up with for the cover and jacket. All of them are beyond gorgeous. She is so creative and talented. It's fun to get a glimpse into her thinking, and I feel so lucky that she was chosen to illustrate the cover!